Content Management System or CMS based website ease the way you interact with your website content. Without any technical knowledge you are free to move, edit, remove, update or even add anything new to your website's content with just the matter of clicks. You have full control on the content of your website which using a CMS solution.
How we do it?
We start with the customer idea or inspiration which lead us to create Website Wireframes. Once the client approves of the wire framing we start designing mock-ups for the website. We usually design 2-3 website mock-ups from which the client choose the best one. After getting an approval, we convert the Mockup to basic HTML/CSS and integration with the CMS. After the integration, our QA Team test and examine any issues/bugs in the design, coding and CMS itself. Development Team clears the bugs and errors and finally the website is presented to the client for a final review. If no revised work given the website is uploaded to its final destination and the project goes live. You can check our workflow for the CMS Website Development below: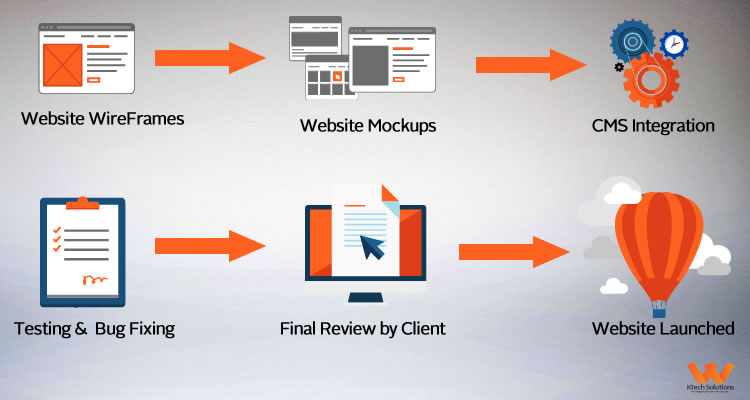 What CMS we use?
We Use various CMS Platforms like; WordPress, Drupal, and Joomla. All of these CMS platforms are open-source and gives the ability to customize, edit and revamp all types of functionalities in their Content Management System.
What about custom CMS solution?
Yes, we design and develop custom CMS as per client's requirement. We have a team of highly professional PHP & .Net developers that can develop any sort of custom CMS solution.
How to place a CMS Based Website order?
We give you a Free Assessment of your website project before We go into your Order placement.  Simply click on the button below to send us your website project requirements.